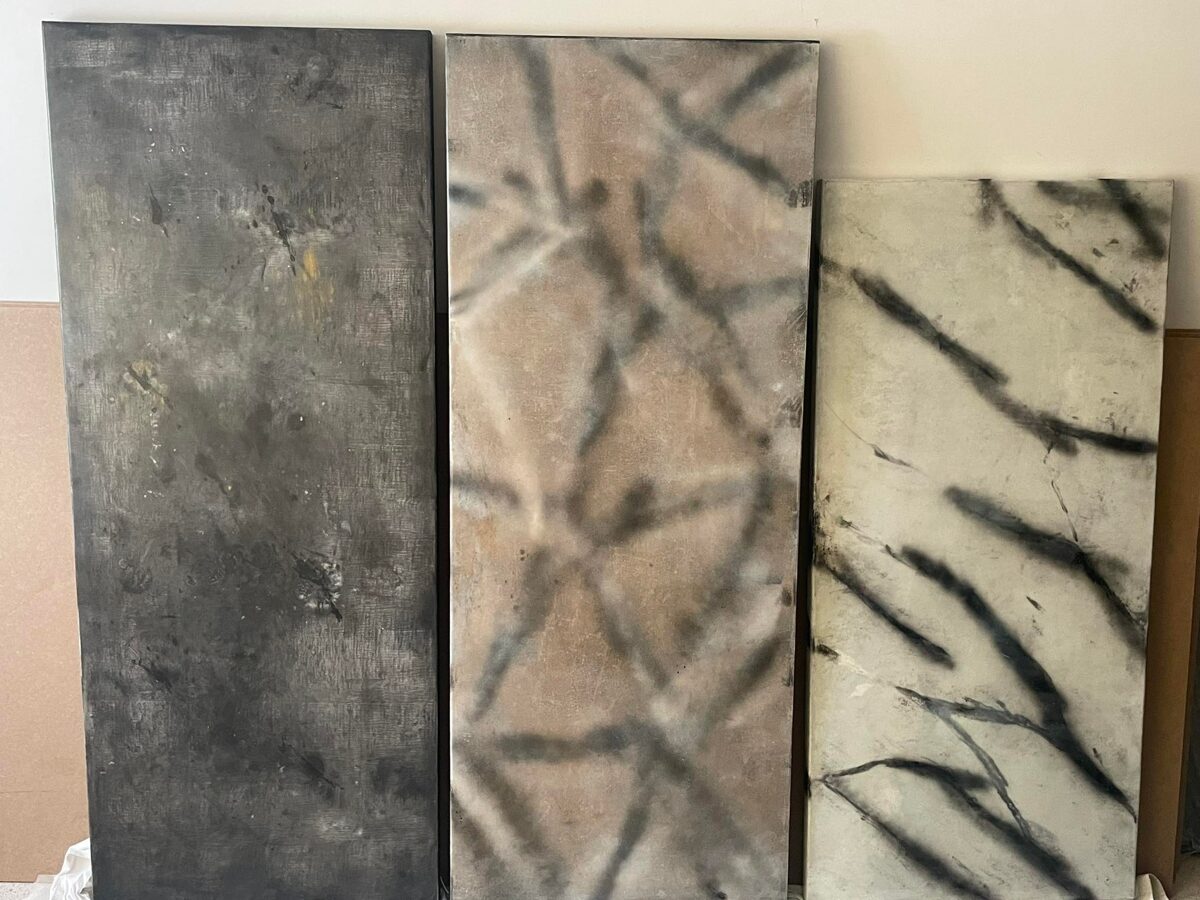 The first surface is an imitation of a granite surface. In the middle, a stone and to the right, a marble-like covering.

I will tell you about liquid epoxy resin. Designed for renovating and creating more kitchen and countertop surfaces. These epoxies that are used are transparent substances that consist of epoxy resin and a hardener. Epoxy resins are harmful during the manufacturing process when they polymerize. Epoxy remains food safe when cured and treated with food safe oils. They maintain the desired shape and level themselves. Excellent resistance to water, solvents, high resistance to heat and surface scratches. Of course, in order for the surfaces to be durable, a precise pouring and processing process must be carried out.

I would like to share information about how durable epoxy kitchen surfaces are, about their mechanical properties, service life. What should be observed when working on this type of surface. I will tell you the difference between epoxy resin and varnish, which is applied to surfaces as a final finishing material.

Advantages compared to other types of surfaces. Such as quartz, laminate, wood, stone or marble.

How long do epoxy countertops last?

It is important to know that epoxy countertops are very durable. They are resistant to heat, solvents, paints. High scratch resistance, meaning these things won't crack, smudge, or develop defects when they come into contact with them.

Epoxy countertops are also water resistant, so you don't have to worry about them getting damaged if you spill anything on them. They are also resistant to UV rays, chemicals and acids. Epoxy resins of various hardnesses are available, such as D81 and D91.

Generally speaking, there aren't many ways that epoxy finishes can be damaged over time, but proper care should be taken.

To make your work surface or any other surface made of epoxy coatings last as long as possible and remain beautiful:

Never use abrasive cleaners on an epoxy-coated surface (avoid steel wool pads);

Avoid ceilings with sharp objects on the surface, or keep very hot objects on it. With careful use, the first three weeks, even though the surface has hardened. Because the full mechanical properties are reached in about three weeks, speaking from my own experience and observations.
Epoxy resin to varnish - Durability:
Durability is where epoxy stands out from varnish. Epoxy is a hard, durable resin.
Epoxy cures harder than varnish and provides a more durable finish. It provides better protection against water damage, resists scratches, heat better than lacquers, making it ideal for furniture, tables, kitchen surfaces, boat decks, floor coverings, etc.

Lacquers will not be as hard as epoxy, so it will scratch easily, spots will form on the surfaces if you do not precisely apply the lacquers between sanding. Damage from impacts can easily occur. However, they are easier to apply than epoxy.
An epoxy countertop is a great option to have a new countertop in your kitchen. They are durable, scratch and heat resistant. It is possible to mix them with different pigment colors. Creating a kitchen takes at most two days. Epoxy is also a relatively affordable material to replace existing work surfaces that are damaged. You don't need to pay high prices for installing a new kitchen. Ordering kitchen surfaces, which takes some time and finding the right shade. Epoxy resin and pigments can solve that problem.

Are epoxy countertops yellow?
Epoxy work surfaces are not prone to yellowing. The material is designed with a low UV rating, which means it absorbs very little sunlight and therefore won't fade quickly.
It's also good news for homeowners who are concerned about the environmental impact of epoxy countertops, as it means the color will change little over time.
Do epoxy countertops scratch easily?

Epoxy countertops are harder than granite, marble, quartz and wood. So yes, they are very scratch resistant.

But, you know very well that everything can be damaged. However, if you have a steel blade in your knife set and you use it to cut something on the epoxy table top or island, even accidentally - it can scratch the surface of the top.

But don't worry, it is possible to repair them, if there are minor scratches, it will be enough to apply beeswax, then lightly sand the damaged area with 1000-4000 grit sandpaper, adding water. If larger damages have occurred, use sandpaper from 320 grain size and then carry out further processing, up to 4000. At the end, polish with SEA-LINE® S0 polishing paste, which is intended for the final coating of epoxy surfaces, removing scratches, giving shine and additional durability. First using a hard and then a soft polishing pad.

In addition to being scratch resistant, epoxy is also less susceptible to heat damage compared to granite and quartz surfaces. As well as leaving or smearing various oils, mustard or other similar products on marble or granite surfaces, irreparable stains will appear after a few hours.
Although both materials can be damaged by high temperatures, epoxy still has greater durability. Epoxy coating will last longer before showing signs of wear or damage from large heat sources such as hot objects.
Looking for answers to questions for a long time, on the Internet, in YouTube video expert stories. Who are engaged in the creation of kitchen tops. I can answer that the most durable work surface material is epoxy coating.
Durability conclusion for epoxy worktops and other choices such as granite, marble, quartz or laminate and wood surfaces.

As with all things in life, it depends on what your priorities are when considering which worktop material to choose. If the cheapest, laminate or wooden surfaces. One of the most demanded quartz, whose value is at least four times higher than epoxy coated surfaces. Not many will be able to afford to buy. Epoxy is more durable than all natural stone materials and all types of laminate, wooden surfaces, which cannot be restored to their original appearance after the appearance of defects. Of course, some surface defects can be repaired, but will it pay off?

With this article, I would like to point out that this type of surface, as in the USA and Dubai, remains one of the most requested.

Why, because hardware stores, offering customers kitchen surfaces or kitchen islands. It will not always be possible to offer the tone that the customer wants. When ordering, you will always have to wait 2-3 weeks, if not more. If you have to furnish a house or the client needs to create a surface according to the tone of the interior and the surface cannot wait that long. The required shade can be adjusted with epoxy pigments.

Resurfacing with epoxy coating takes place on the existing surface and takes up to two days to complete. If creating a new surface, mdf - wood fiber board is used, but laminated chipboards can also be used. Quartz, stone or marble surfaces are heavy, requiring a lot of work to assemble together with the wall panel. This type of surface will be very difficult to restore. The prices will also be much higher than for epoxy coating.
When talking about epoxy surfaces, it is possible to imitate all the necessary shades. Create a new one individually for you. No craftsmen are needed to assemble, assemble epoxy kitchen surface and wall panels. Epoxy coating 3-4 millimeters, which is moisture resistant, protects against heat, scratches and is easily restored. It is also possible to match the wall panels in the same tone to the kitchen surface. Such epoxy coating surfaces can be repaired by the owner himself, unlike other surfaces. Most importantly, the prices are much cheaper than other types of stone surfaces. It is also possible to restore the stairs, so that you don't have to remove the old steps and restore them in the color you want.
In the next article I will talk about the technological process.

I hope the information was useful, regards epoxysvete.

more

https://www.facebook.com/EpoxySvete
https://www.instagram.com/epoxysvete/

https://www.tiktok.com/@epoxysvete.com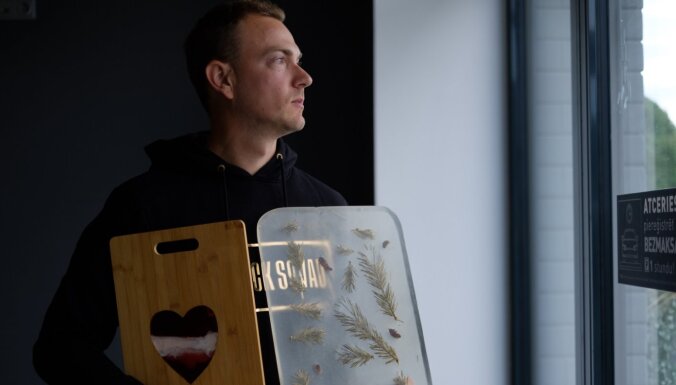 After leaving his job in construction in Norway, Edgars Brokāns returned to Latvia and started his own business here - he makes furniture and design items, combining wood with epoxy resin. The young entrepreneur also offers to imitate the popular marble and masa surfaces in modern interiors, and he has high hopes for the growth of his business precisely on this stone, the cheapest solution.
Photo: Kārlis Dambrāns, DELFI
Currently, Edgars has based his business in Svete, Jelgava county - he is building his own production plant next to the family house, and his brand "Epoxy Svete" also bears the name of his birthplace. In starting his business, he invested money earned in Norway, and also managed to attract support funding.
The young entrepreneur said that the use of epoxy resin in design is becoming more and more popular in Europe, so he sees export potential for his products.
In a conversation with "Delfi Bizness", he tells how the idea of "Epoxy Svete" was born, which has often been and has helped when taking the first steps in business, which takes place in the production process, as well as about a project that until now has been intended for both the closest , and one of the biggest challenges is the use of epoxy resin in reviving ancient stairs.
Continue reading the entire article in the Delphi Business section.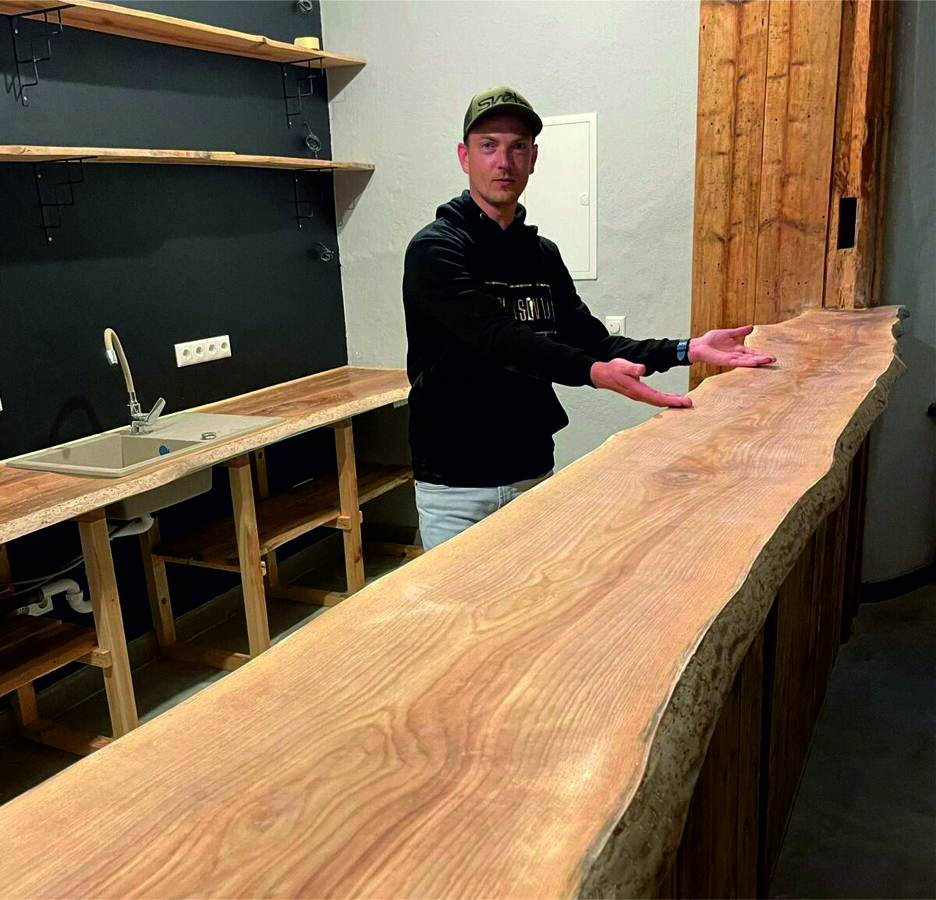 Edgars Brokāns, the founder of the "Epoxysvete" brand, obtained a bachelor of engineering degree in materials science and a qualification as a woodworking engineer at the Latvian University of Agriculture. He has been actively engaged in various wooden products for several years, and construction has always been a relevant activity.
Edgars says: "Working for less than two years at the hardwood floor production plant of SIA "Amber wood" as the main department manager in the oiling and varnishing department, I learned a lot of new technologies with various oils, waxes, pigments, with which it is possible to obtain exclusive parquet and laminate floor surfaces. A customer once asked if I had heard of epoxy products. Curious as to what these products are, I tried to make a wood-epoxy alloy object, and it worked for my own pleasure.
Next, I wanted to find out about the viability of the products and the interest of customers. In 2021, I participated in the training "Support for rural youth to promote entrepreneurship" and the competition "Be in the countryside!" with the idea "Epoxy and natural wood products in your home". I successfully reached the semi-finals with my business idea. In my opinion, what was missing at that moment was more experience and clarity of the financial plan to reach the finals. Because the finalists already had a clear vision of the product, finances and sales. The competition commission recommended to continue what was started in order to develop your business idea and become an entrepreneur.
Later, I participated in the program of the State Employment Agency "Measures for starting a business or self-employment", writing my business plan idea. Being among the best, I got a grant for the purchase of equipment, raw materials, timber, as well as a monthly grant, I became a performer of economic activity. The former farm building is now turning into a production facility, which is located in Svete parish of Jelgava county. Later, I participated in the pre-incubation competition of the LIAA Business Incubator, where I also successfully entered the top twenty, getting the opportunity to improve my proposed manufactured product - a natural, dried wooden structure combined with epoxy resin. I produce cup coasters, wall decorations, table tops, serving boards and meat boards. Epoxy resin has excellent mechanical and chemical properties, very good adhesion to various surfaces, low shrinkage. High resistance to water and its effects. Easy to maintain, renewable. When processed, an elegant, decorative design object is formed. As I developed, I realized that I can also offer my skills as a service. In pouring various kitchen tables, imitating the tone of the marble or stone table top. According to the wishes of the customers, it is possible to offer on an individual order, if the customer has any allergies, to find safe epoxies, such as green epoxy, which are 60% made from plant products. And EcoPoxy, made in Canada and made from hemp and soybean oil, is 100% non-allergenic, non-toxic, non-conductive, non-toxic to aquatic organisms, and then further treated with food-friendly oils or waxes. In addition, it is also possible to individually engrave, burn, embed with fluorescent epoxy that glows in the dark, or embed LED lighting. I share my idea publicly and gain more and more followers, people appreciate a unique, individually designed interior product. I have also started creating my own website, epoxysvete.com, and at https://www.etsy.com/shop/epoxysvete you can see my creations. Of course, they are also promoted on social networks, such as instagram https://www.instagram.com/epoxysvete/ and facebook - EpoxySvete. Epoxy resin allows any piece of wood to be considered potentially useful, creating a unique design object. Such surfaces are resistant to temperature changes, moisture and mechanical damage. They are reliable and durable. With the help of epoxy, it is possible not only to create new furniture, but also to transform old ones.
I participate in the project "Kopdare" - we do, create and grow together, it is a project to promote the participation of Jelgava region residents. My brand name "Epoxysvete" promotes my parish where I live. I help maintain the "Kopdare" and "Visit Svete" Facebook pages.
Future goals are to create your own production facility, sell a wide range of products to European countries using the etsy platform. The priority would be not only to produce, but also to participate in various exhibitions outside Latvia, promoting your service. Restoration and creation of kitchen table surfaces with epoxy resin, which would already imitate the shades of marble and stone table tops. Provide your service to various design fittings stores for the creation of exclusive table tops in apartments and houses.
My advice would be: if you are ready to create your idea, you must be ready to work all the time. Knowing that there will be moments when you want to put an end to everything. But first I would recommend to understand whether others are interested in your idea and would be relevant. And if you feel that there is a response, then you have to continue, looking for new opportunities for development. Because those who do, they can. The main thing is that you like what you do and know what you want to achieve. Thank you, all the best wishes for "Long Live!" team, because without the competition I wouldn't have realized my potential."
Agnes Stivriņa,
Business consultant of LLKC Jelgava office